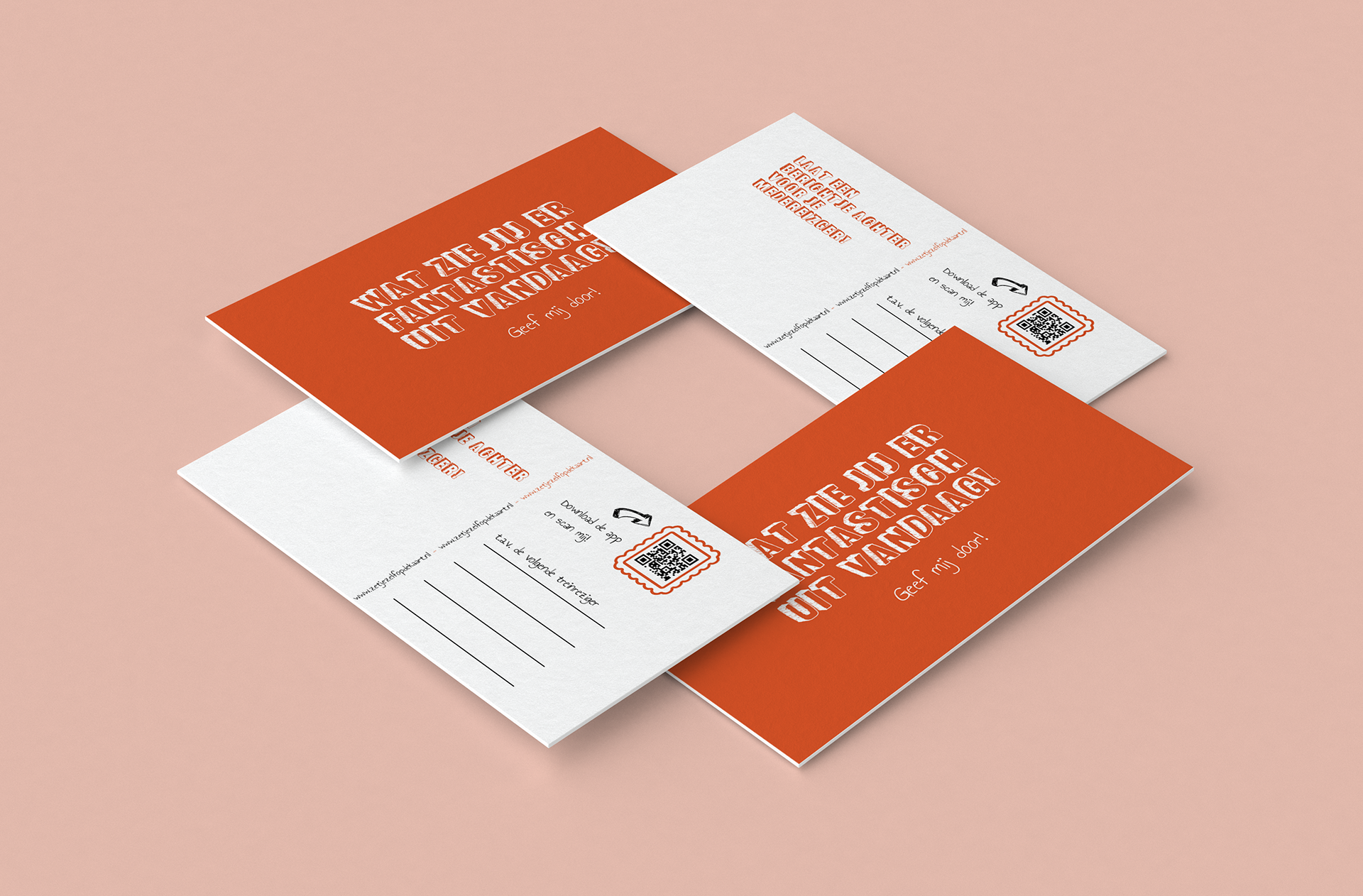 Role: Concept Development, User Research, UX Design
Client: School project/Fictional
For our service design project, we were free to choose or own domain and decided to focus on traveling by train with the NS. We started looking on the internet what kind of problems people encounter with the NS and what kind of initiatives already existed to improve traveling by train. Then we went to observe in the trains on our own, where we took a lot of notes and pictures. We also talked to some travellers in the train, to ask them about their experience. We noticed that most people were pretty positive about traveling with the NS, but they were a bit bummed that there wasn't a really nice atmosphere. "People don't greet each other anymore and they are always on their phone."
We then put out a questionnaire about traveling with the NS. We received a lot of reactions and we noticed that a lot of people thought traveling could be more fun. They also mentioned they missed some sort of social connection to the people around them. But on the other hand, people mentioned they spent their time on their phone or working and that they were irritated by other travellers.
To get more insights about their traveling experience on day to day basis, we asked some people to do a probe exercise. They had to take a picture everyday while they were traveling, it didn't matter what they took a picture of. This could be something fun, annoying or out of the ordinary to hopefully get an idea about what was important to them while traveling. At the end of the week, we discussed the pictures with them. Unfortunately, only one of the participants remembered to do the exercise, which gave us little insights.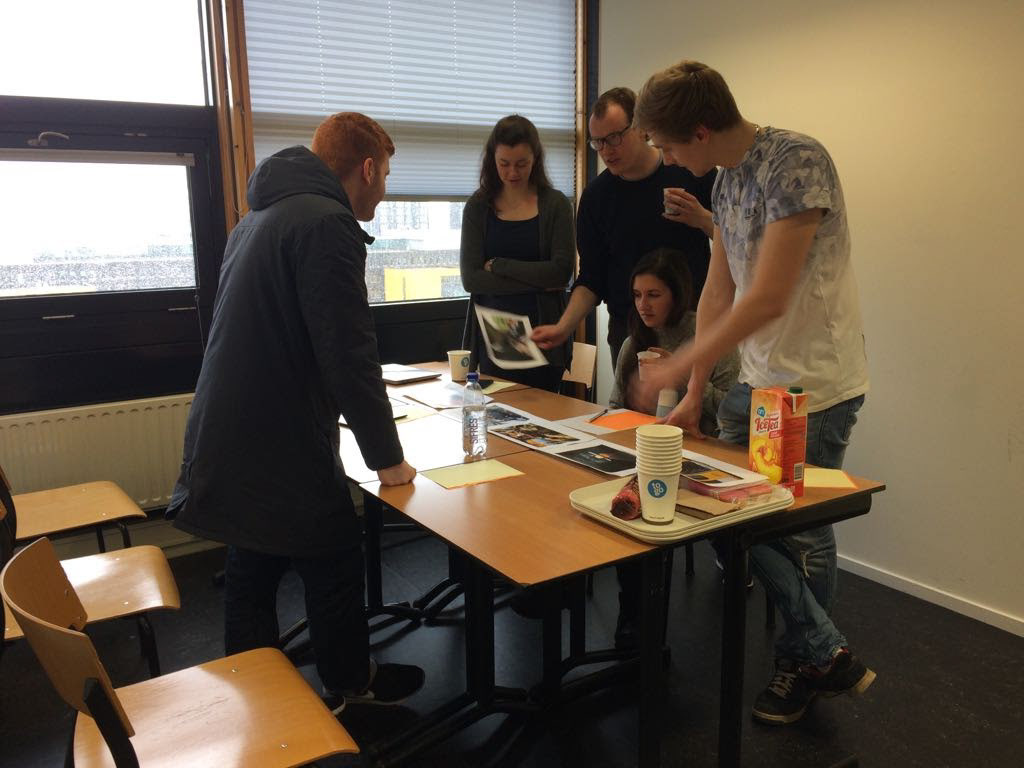 At this point we decided we wanted to make traveling by train more fun. We knew people wanted a better atmosphere, they wanted some "gezelligheid" as we say in Holland. But at the same time, people close themselves off from the world while they're traveling and find their fellow travellers (most of the time) annoying.
To find out how we can make it more fun to travel by train, we organized a focus group. We looked up pictures online of different situations in the train, ranging from a chock-full train to a train with a bar or displays to watch a movie. They had to arrange the pictures of the train they rather not travel in to the train they would really like to travel in. They had to do this together and reach consensus. While they were arguing about which train would be the best, we gathered great insights about what's important to them. Here we noticed again this contradiction of wanting to shut yourself of in the train versus being more connected to your fellow travellers. 
Next, we gave them several dilemmas about traveling by train. For example: "you always have to invite someone to come sit next to you" vs "you need to say hello to everyone you encounter". Each participant had to choose one option and explain their choice. We encouraged them to react to each other which lead to small discussions. These answers and discussions gave us more insights in how people feel about approaching and talking to strangers on the train.
After the focus group, we stated our challenge using the tool "frame your design challenge". We realized personas and we used these together with our design challenge to brainstorm about possible solutions. When we finalized our concept, we realized a service blueprint to map out the touchpoints of our service.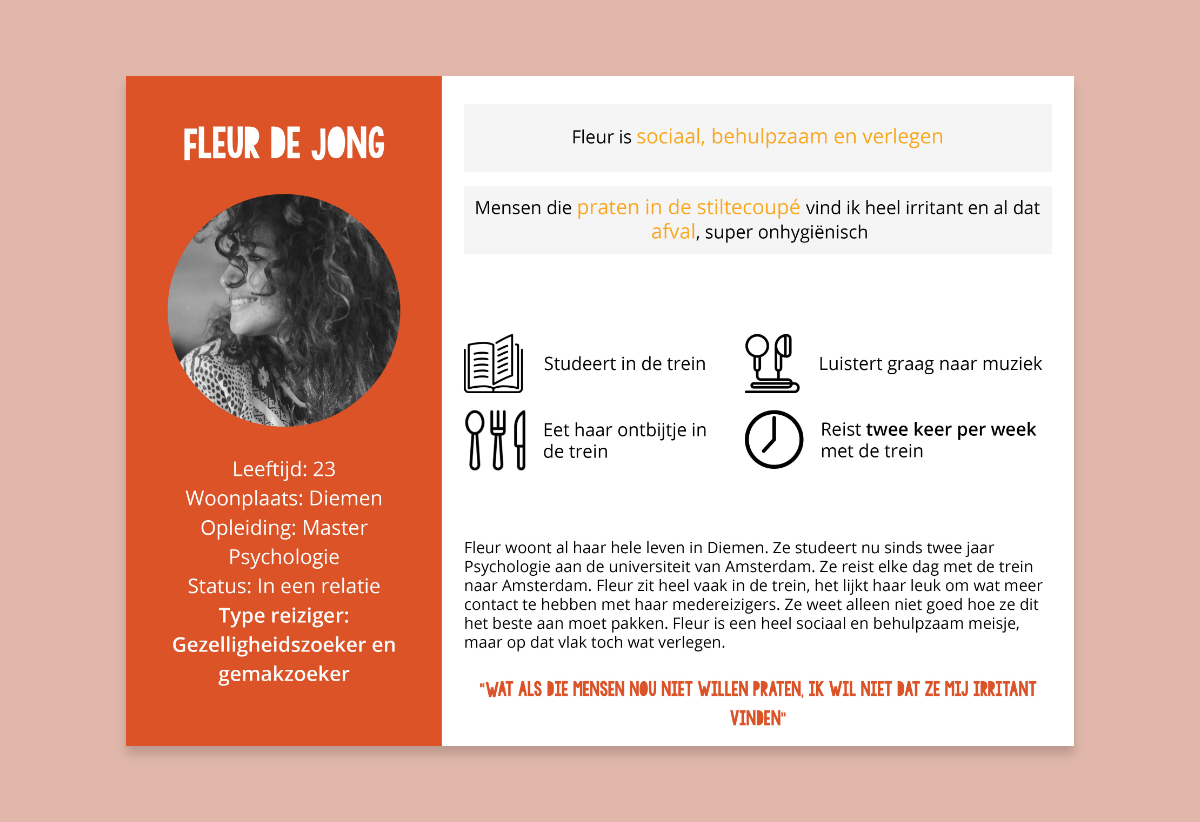 After getting feedback and improving our concept and service blueprint, we started sketching. We tested our paper prototype with users by giving them scenarios and tasks. We also gave them some cards we designed (the cards will be explained later) to support the scenarios. I used these results while realising our wireframes.
We came up with the
concept
Zet jezelf op de kaart (put yourself on the map). With this service you can get in touch with your fellow travellers by simply writing them a card. 
At different train stations, cards will be handed out to travellers. You can write your message on the card and give them to someone else or just leave them behind. You can also use the app to scan the card and pin your location (anonymously) on the virtual map. On this map, you can see the route the card travelled by the pins of the people who found the card before you. Every card has its own chat page, where you can talk to other travellers who scanned the card.
You can see your card collection in the app and continue the chat. After a while, the card expires. The card will turn grey in the app and the chat will close. The physical card can be either thrown away or taken home by travellers. This is an easy and accessible way to get in touch with your fellow travellers, without having the feeling you are bothering them.